Special : Cuddle pole
Teambuilding: cooperation, communication and real contact!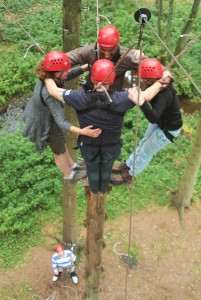 The Cuddle Pole is a special, which can be booked separately, as one of the possible separately bookable components in our climbing forest.
The Cuddle pole is not included as standard in the rope and zip line courses.
With 4 participants, you climb 1 by 1 into a 7m-high pole and keep each other balanced while standing, properly secured, on a small 40x40cm platform to perform a group task together…
Climbing Forest specials, per half-day session
Price p/p
2 Teambuilding Specials:

Cuddle Pole and Giant Ladder

Climbing Forest + 1 Special (cuddle pole or giant ladder)

€36.00

€41,00
Excl. self-insurance.