Highe Rope Forest Adventure in the Ardennes
High-altitude adventure for the whole family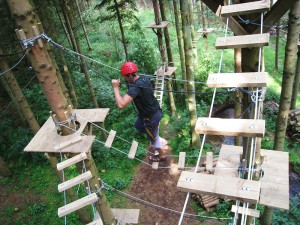 Tokkel course, deathrides, Indian bridges and much more
  Safety first, expert instructors  Latest materials according to European standard
  More than 3o years of experience in outdoor
  Can be done independently for anyone from 7 years old, younger kids together with a buddy
  Decide how high you set the bar!
Bel voor meer info:
+32 (0)84 – 411 084
---
In the middle of the Ardennes is our versatile high rope course with exciting sections. You will face cool challenges at various heights: an extensive zip line, death slides, Indian bridges, monkey bridges, balance beams and much more. Our climbing park offers 2 hours of action, challenge and entertainment!
This course can be booked together with 1 or 2 Teambuilding Specials: the Cuddle Pole and the Giant Ladder, and will take 2.5 to 3 hours.

Exciting for all
The high rope forest adventure is a great challenge no matter what you do! Choose how high you want to go, how far you want to jump or how many at a time you will stand on a pole….
All activities can be done independently, as long as you can reach up to the safety lines to attach the carabiners. Children can do this independently if they are at least 1m20, so they can reach the safety lines to attach the carabiners hanging at 1m40.
The Cuddle Pole en the Giant Ladder are offered in such a way as to create a personal challenge for each person at your limit of the achievable. Will you manage working together with wobbly knees at the top of the Cuddle Pole? Or climbing to the top of the Giant Ladder while working together?
Make your own choice
The challenge is your personal choice. It is also possible to do part of the activities. You can watch the others closely, encourage and take photos. Safety is 100% in order at every level and is guaranteed by expert guidance and use of certified materials.
Starting times
In the months of July and August, you can start daily at 10am, 12.30pm and 3pm. Outside this period, please make a call to ask about start times: (0032)(0)84-411084.
Adventures in the climbing forest, book now
Advantages of booking: you avoid to miss out, save time and have more choice.
| | | | |
| --- | --- | --- | --- |
| High rope forest adventure: Rope bridges & zip lines | | Price p/p | |
|  up to 16 years | | €25 | |
| from 17 years | | €30 | |
Excl. self-insurance.
| | | | |
| --- | --- | --- | --- |
| Including Teambuilding Specials | | Price p/p | |
| Highe rope forest adventure + 1 Special: Cuddle Pole of Giant Ladder | | €41 | |
Excl. self-insurance.
| | |
| --- | --- |
| Good to know | The structures are built to European standards. Perfectly secured with climbing harness and helmet, and well secured and guided. The Brandsport instructors give you the chance to clamber and swing through the trees. |
| | |
| --- | --- |
| Advantage | You do not need any special strength or personal fitness to participate. |
Brandsport is a member of BFNO – Beroeps Federatie Natuursport Ondernemingen – Professional Federation of Nature Sports Enterprises