Kayaking in the Ardennes
Lovely kayaking on the Ourthe, a beautiful setting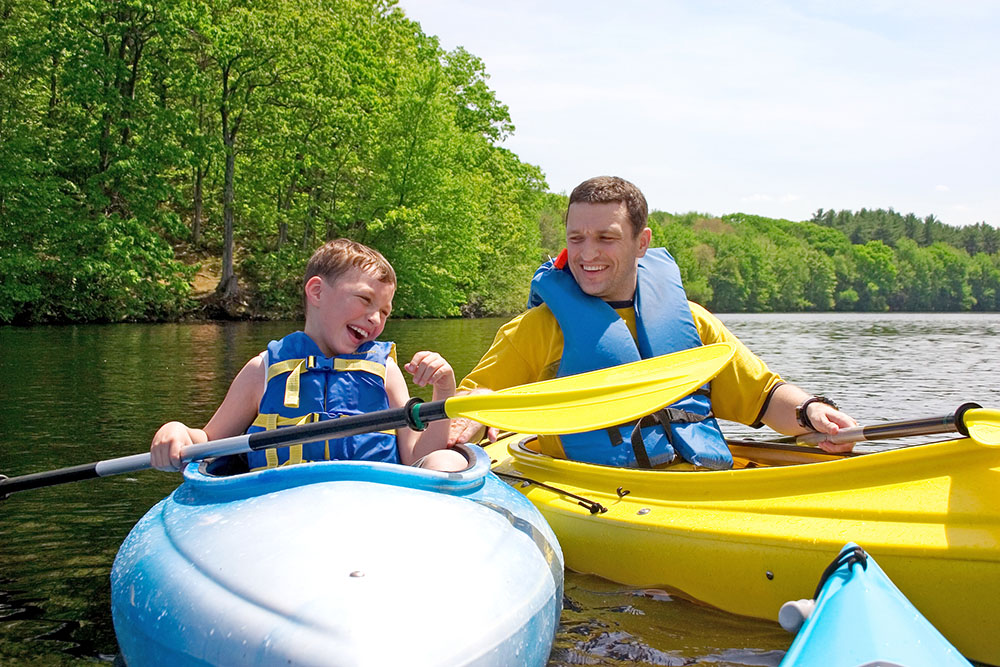 Independent boating with explanation in advance
When the water level is too low, Brandsport offers a wonderful kayaking trip in a valley of the Ourthe in the 'Parc Naturel Les 2 Ourthes' near the village of Nisramont
Of bel voor info:
+32 (0)84 – 411 084
---
Explore the wooded and hilly Ardennes from the water. With your kayak you boat independently, at your own pace, on the beautiful river Ourthe.
Ideal for families and friends
Kayaking on the Ourthe is ideal for families with young children. In the 2-person boats, the adult can sit in the back and the child in the front. Our kayaks are also perfect for groups of friends and families who want to explore the Ardennes from the water during a weekend.
Paddle independently along the Ourthe River
If the water level permits, kayaking trips start in La Roche-en-Ardenne. Brandsport gives a clear explanation at the start and you get a barrel, which is watertight if you turn the lid straight up yourself, and a life jacket if you wish. This is included in the price.
You sail independently, but because of the explanation beforehand, you know exactly what to pay attention to. This way you can safely experience a beautiful kayak trip on the river Ourthe. Along the way you will encounter many highlights: a huge rock face, rapids, the old town of La Roche-en-Ardenne, too many to mention.
Afterwards, Brandsport arranges transportation back to the starting point. You can choose a short (2 hours) or long tour (3.5 hours). Kayaking is easy to combine with other activities.
Read our kayaking blog to get in the mood in advance.
Advantages of booking: you avoid all kayaks being gone, save time and have more choice.

| | |
| --- | --- |
| Advice! | Always inform if kayaking is possible. Especially in bad weather conditions or in the off-season, we are not always open. |
Kayaking Ourthe

 Where
Price p/p

Tour Ourthe 8 km (1.5 – 2 hours)
In vacation periods possible every day
Outside vacation periods reservations required.
Boarding between 10:00 a.m. and 3:00 p.m.

LaRoche – Jupille, or in Nisramont when the river is closed
€20,-

Tour Ourthe 15 km  (3,5 – 4 hours)
To see which dates this tour can be booked on, you can go directly to our booking page. If you do not see the activity listed then it is currently unavailable.

LaRoche -Hampteau
€30,-
Incl. explanation, transportation back to finish to start, waterproof barrel, life jacket and helmet.
Excl. own insurance.
| | |
| --- | --- |
| Tip! | Even when the rivers are closed due to low water levels, Brandsport offers a wonderful kayaking trip in the Nature Park of the 2 Ourthes in a valley near the village of Nisramont, where the water remains deep due to a barrage in the Ourthe River. |
Boarding

Kayak Tour River Ourthe Ardennes

LaRoche: Rue des Evêts, 6980 La Roche-en-Ardenne. The kayaks are located near the barrage in the river on the bank of the Ourthe; you can park here.

Nature parc 'Les 2 Ourthes' at Nisramont: Rue du Barrage, Nisramont: via google maps, because the car GPS often does not know this address. There is a large parking lot.

[/one_half]
Brandsport is a member of BFNO -Professional Federation of Nature Sports Enterprises