Rock climbing & abseiling in the Ardennes
Spectacular climbing and descending along steep rock face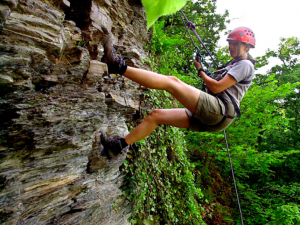 Safely secured, with expert instructors
Climbing materials according to strict European standard
Over 3o years of experience in outdoor
Magnificent views over the Ourthe valley
Of bel voor info:
+32 (0)84 – 411 084
---
Two birds with one stone: learning to rock climb in the green environment of the Ardennes and spectacular abseiling along the rock face back down. You can arrive at your friends with a story like that. Exciting, but once you have taken the first step, you will be proud of yourself!
Learn rock climbing in the Ardennes
Safely secured, you climb up the steep cliff face under your own power, with stunning views over the Ourthe valley. You will be secured to a rope by a climbing instructor or fellow participant.
You can choose from different routes with a great variety in character, length and level. Learning to secure and the various rope techniques are part of learning rock climbing in the Ardennes.
Make the descent of a lifetime
Abseiling is descending down a steep rock face using a special abseiling rope. Securely secured, you make a spectacular descent with fantastic views over the Ourthe Valley. You can control the speed all by yourself.
Once down, scramble back up via an exciting path. This allows you to abseil down once more, securely secured.
Other names for abseiling are 'rappelling' and 'rope descent'. You use this technique not only in mountaineering, but also in canyoning, caving and even whitewater rafting.
Safety first
Before the start, you will receive a professional explanation of the different routes and use of helmet and climbing harness.
Boek your climbing adventure now
Advantages of booking in advance: you will not miss out, save time and have more choice.
| | | | |
| --- | --- | --- | --- |
| Rock climbing & abseiling |  Duration | Price pp up to 16 years | Price pp from 17 years |
| | Half a day | €35 | €40 |
Excl. self-insurance.
| | |
| --- | --- |
| Pay attention: | For your own safety, you must be at least 135 cm tall. |
| Good to know: | In case of anxiety or fatigue, our instructors are on site to help and support you where needed. |
Brandsport is a member of BFNO – Beroeps Federatie Natuursport Ondernemingen – Professional Federation of Nature Sports Enterprises