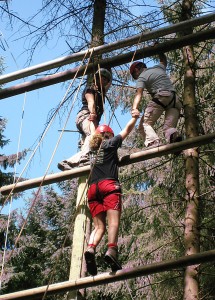 Special : Giant ladder
Team building: cooperation, communication and real contact!
On this ladder, you can only climb up if you work together with your team; and the climbing team does not make it without the backup of the supporters! You literally experience that everyone's contribution is essential.
The Giant Ladder is a special, which can be booked separately, as one of the possible single sections in our climbing forest. This giant ladder is not included as standard in the rope and zip line course.
Specials in our climbing forest
Prijs p/p
2 Teambuilding Specials:

Giant ladder + Cuddly Post

Rope and zip line course + 1 Special (giant ladder or cuddly post)

€36.00

€41.00
Excl. self-insurance.