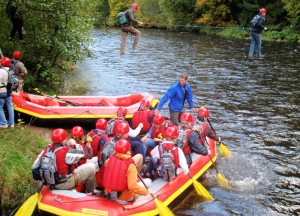 La Roche Team Adventures
Just before the river Ourthe winds its way through La Roche-en-Ardenne, on a wooded slope on the left bank, you will find the terrain where teams at Brandsport experience the 'LaRoche Team Adventures'.
On the other bank of the river is the hotel which guarantees excellent care and offers excellent meeting facilities for corporate teams!
Outdoor Teamwork: top experiences together!
Teambuilding for a small company, but also up to 175 people; experience outdoor adventure as a team here without the need for on-site transport! Cooperation, looking after each other's
safety, blind (literally) trust and leading each other are the keywords. But the thrill of the action, the mutual competition to be the winning team, also drags you along.
Short and powerful outdoor action, an instant experience
A selection of the possibilities: rock climbing, blind abseiling with a 'buddy', archery, building a raft and crossing the river together, an exciting steep hillwalk where you take care of each other's safety, the rope bridge across the river, kayaking/rafting, a hike&bike tour with assignments, teambuilding Games, mountain biking, high rope forest adventure: our ropes course in the trees with exciting specials… how about the hug pole? Fun competition elements can be incorporated into the programme.
Prices depend on the composition of the programme and are on request.